Delve Deeper
Delve Deeper: A Program of Intensive Jewish Study is an adult education initiative that brings dynamic teachers to teach in-depth, university level Judaic courses to a diverse group of adult learners. Delve Deeper programs are presented in cooperation with the Jewish Alliance of Greater Rhode Island and area synagogues, including Congregation Beth Sholom, Temple Beth-El, Temple Emanu-El, Temple Habonim, Temple Sinai and Temple Torat Yisrael.
Past Courses: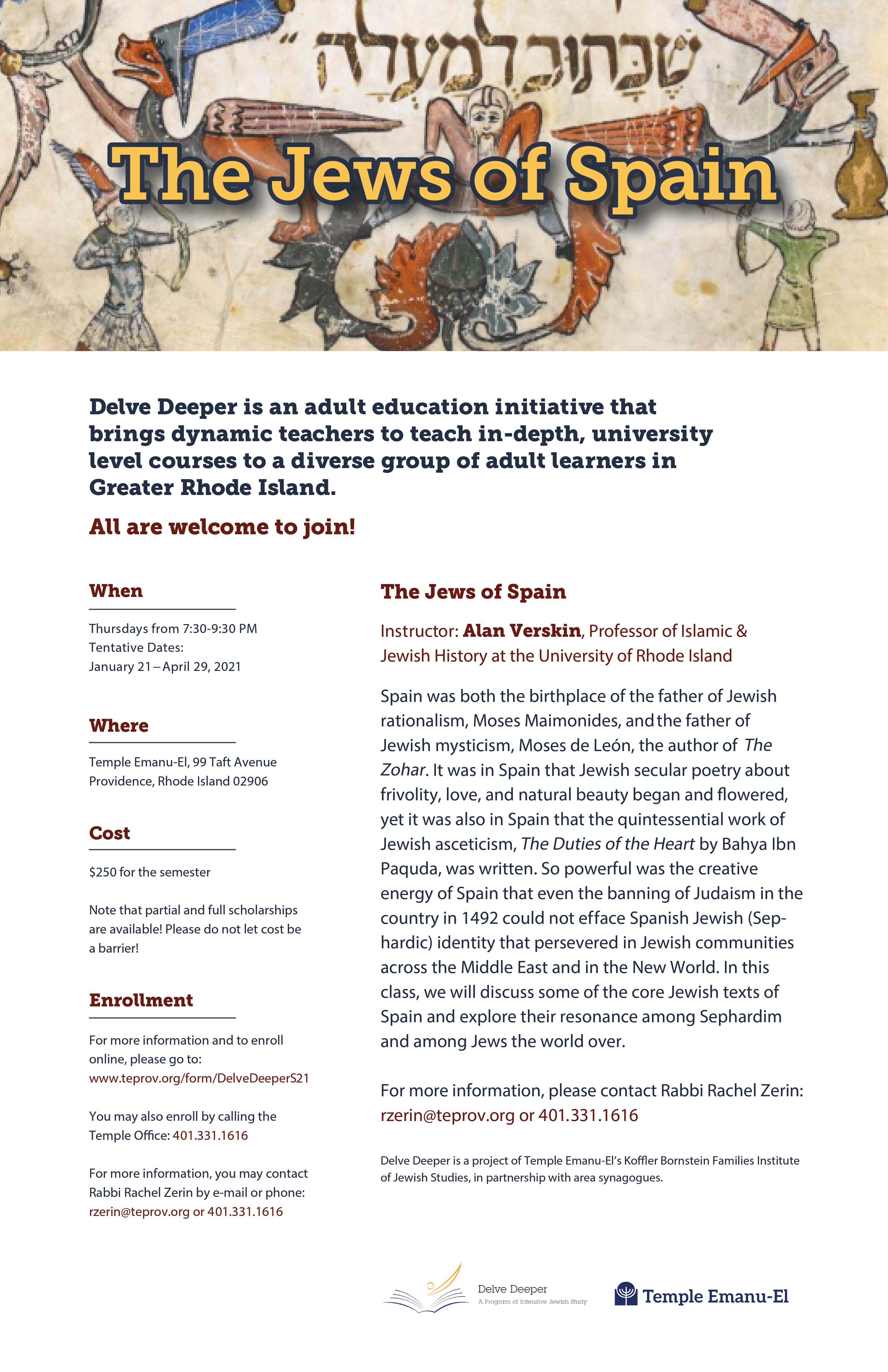 The Rabbis and Their Legacy:
An Introduction to
Rabbinic Judaism
Thursdays, 7:00-9:00pm
February 1 - May 10, 2018
People talk about "the rabbis" all the time, but who were they really? The legacy of the rabbis of antiquity (ca. 70-640 CE) is astounding: their texts, among which are the two Talmuds and many books of midrash, have served as the foundation for nearly all forms of Judaism down to the present day. This semester we will take a close look at the historical context in which the rabbis emerged and worked; their literature; their ideas; and their discussions of proper Jewish practice. The class will involve much close reading of rabbinic texts (all presented in English - no prior knowledge required), and we will devote a session close to Passover on the Haggadah.

By the end of the course you should know: who the rabbis were, why they are important now, and how they became important; what the Mishnah, the Talmud (both Babylonian and Palestinian), and midrash are and how to differentiate between them; the rabbinic notions and process of law (halachah and mitzvot); rabbinic approaches to the concepts of revelation, redemption, creation, and why bad things happen to good people; a deeper appreciation of the Haggadah; and the emergence of rabbinic laws concerning kashrut, Shabbat, and women and marriage. And, of course, you will have fun in the process!

"The Rabbis and Their Legacy" will be taught by Michael Satlow, professor of religious studies and Judaic studies at Brown University. His research focuses on Jewish social history at the time of the rabbis and he has written, among other books, How the Bible Became Holy and Creating Judaism: History, Religion, and Practice. He teaches in the Meah program at Hebrew College and has lectured widely. He and his family were among the founders of Minyan Chadash and they are active in three local synagogues.
When:
This course meets on Thursday evenings, February 1, 8, 15, 22, March 8, 15, 22, April 12, 19, 26, and May 3 and 10 from 7:00-9:00pm
Where:
Temple Emanu-El, 99 Taft Ave, Providence, RI 02906
Classes meet in the Vestry
Accessible entrance available by request from Morris Ave
Cost:
$200 for the semester
Partial and full scholarships are available! We are very committed to making this course accessible to everyone. Please do not let cost be a barrier! For scholarship information, please contact Rabbi Zerin at rzerin@teprov.org or 401-331-1616
Judaism in the Modern World
Mondays, 7:00-9:00pm
September 18-December 11, 2017
How has Jewish identity changed as new c
ommunities have emerged and older communities have been transformed? What has influenced the pace of change in various contexts? How have Jews experienced modernization, integration, and the cohesion of their communities? How have religious practices changed and adapted in response?
We will explore the answers to these questions and more in "Judaism and the Modern World." This course is an introduction to and survey of Jewish intellectual, social, and cultural developments in modern Western and Eastern Europe, the Middle East, and America. Though we will begin in the seventeenth century with Spinoza as the harbinger of modern possibilities for Jewish identity, we will focus most of our attention on the late eighteenth and early nineteenth centuries when internal and external attempts to modernize Jewish life brought Western European Jews out of a condition of social and cultural isolation and began their transformation into citizens of the states in which they lived. By comparing these communities to Jewish populations in Eastern Europe, the Middle East, and the United States, we will explore the changes in Jewish life that have taken place since this shift in their social and political status. Throughout the course we will pay close attention to both social and intellectual history and explore the many ways Jewish thinkers have reimagined Judaism in the modern world.

Judaism in the Modern World will be taught by Paul E. Nahme (Ph.D., University of Toronto), the Dorot Assistant Professor of Judaic Studies and Assistant Professor of Religious Studies at Brown University. He has studied Rabbinic Literature and Jewish Law at Yeshivat Chovevei Torah. He taught previously at the University of Kansas and was formerly a fellow at the NYU School of Law and Cardozo School of Law of Yeshiva University. His areas of interest are modern German-Jewish philosophy, French post-structuralism, and modern Rabbinic thought. His research focuses upon questions of identity, race, religion, nationalism, and the dynamics of secularism and public reasoning.
Rabbis, Mystics, Philosophers, and Poets:
An Introduction to Medieval Judaism
Spring 2017
It was in the medieval period that Judaism became the religion we recognize today. New and enduring forms of Jewish expression developed in the areas of philosophy, mystical piety (Kabbalah), Jewish law, biblical commentary, and poetry. Many of these emerged as defenses of Jews and Judaism in the face of both hostile and alluring non-Jewish cultures. Together we will explore the famous works and religious movements of the era. Our discussions will address Jewish life under both Islam and Christianity, and we will consider how the experience of each helped to shape the Judaism that we now know. All texts will be presented in English. No prior knowledge required.
"Rabbis, Mys
tics, Philosophers, and Poets" will be taught by Alan Verskin, assistant professor of history at the University of Rhode Island and a faculty member of the Hebrew College Me'ah Program. He holds a Ph.D. in Near Eastern Studies from Princeton University and an M.A. from the University of Chicago Divinity School. His academic work ranges in topic from nineteenth-century Yemen to medieval Spain, and from Jewish philosophy to Islamic law. He is an avid translator of Hebrew, Judeo-Arabic, and Arabic. He is currently at work on a book entitled, Discovery and Deceit: The Travels of a European Orientalist and his Jewish Native Guide in Nineteenth-Century Yemen.
Wed, December 1 2021
27 Kislev 5782
Wed, December 1 2021 27 Kislev 5782